Vestibule – has granite floors and decorated with two 2.3 meter (91") tall granite fountains with recycling water. An instant and wonderful impact as soon as a visitor enters through the main doors.
The Great Room – simply immense with ceilings nearly 5 meter high (16'). It possesses a stupendous view of the ocean and offers the most unforgettable view of the home.
Dining Room – this large space is adjacent to the Great Room and is covered by the same high ceiling. Sitting in this beautiful space one can gaze at the ocean.
Kitchen – simply lavishing and highlighted with a center island. The center island has two sections, the lower one serves as a working area, while the higher level is used as a bar platform for guests to seat while enjoying their drinks. All flat surfaces in the kitchen are granite, and the back walls were finished with ceramic tiles. It contains beautiful wood cabinets made from three different native woods. All kitchen appliances are high-end and stainless steel. The kitchen also offers a glorious wide-angle view of the ocean.
Kitchen Pantry – a spacious walk-in larder that easily stores enough groceries for several months.
Breakfast Room – very cozy and breezy space with four rotating windows facing the ocean. A great place to sit and watch the sunrise every morning, or the moonrise at night.
Powder Room – located in a corner of the Great Room. This small bathroom has a sink with a unique granite countertop and a gorgeous Indonesian bowl.
Guest Room – is not only extremely comfortable, but exceptionally beautiful, and with a view of the ocean.
Guest Bathroom – has an all granite sink and the walls that are fully lined with ceramic tiles. It also offers a view of the ocean.
TV / Family Room – beautiful room with ample space for entertaining company, family, or friends.
Billiard Room – with a beautiful tray ceiling, this room was designed large enough to meet the recommended required space of a tournament size pool table. It contains four windows that furnish ample ventilation.
Walk-In Closet – An enormous closet, located off the main hallway. It contains two separate sections to store plenty of items, besides having a small security room.
Master Suite – very spacious and impressively beautiful. It contains a uniquely lit tray ceiling and has enough space to have a seating area, and yes, the view of the ocean is simply spectacular—what better way to start the day.
Walk-In Closet – the Master Suite also has a very large walk-In closet on the rear corner to accommodate all the items of clothing one could possibly imagine.
Master Bathroom – this large bathroom also faces the ocean. With two separate all-granite sinks and a thick wall hiding from view the shower area. Here two people could take a shower (looking at the ocean), or possibly, one could opt to use the Jacuzzi bathtub in the middle of the room which is set atop granite. Two additional small rooms are part of this room. One is a walk-in linen closet, and the other is a private area with a tankless toilet and bidet.
Exercise Room – it is centrally located near the Master Suite and Master Bathroom, with TV, ceiling fan, and air conditioner.
Office – an enormous space with a very high and attractive ceiling. This space is ideal for anyone needing to take care of business, or conversely, anyone who wants to spend some quality time reading or enjoying their computer.
Storage Room – a large room is located on the southern side of the Office and offering plenty of space for practically stockpiling anything.
Studio / Working Area – this huge space adjoins the Office and faces the ocean, aside from sharing the same high ceiling. It could be the most important space in the house for those who like being engaged in creative endeavors.
Laundry Room – with ample space for housing a large washer and drier, ironing, plus housing a stainless-steel sink with granite countertop.
Hallways - there are five wide hallways quite suitable for hanging art work, family photos or memorable travel memorabilia. Track lights are found on three of the hallways to provide individual illumination to each individual picture.
Garage – has a dedicated ramp entrance accessed on the side of the house, in essence, hidden from view as visitors face the house It is ample enough to hold two large vehicles, including SUVs. Two separate large storage sections are found in this garage. One has double doors to permit the secure storage of power tools, expensive merchandise, or other items needing protection. The second space is opened, to house larger items which may be used more frequently, or perhaps, it could be converted into a workshop area. There are also plenty of high shelving spaces to store boxes, etc.
Main Lanai – has plenty of space for a dining table of any given size and still sufficient room to have a sitting area for business conferences, family gathering, or simply, lots of friends. There is a built-in barbecue structure with separate grill and skewer areas, finished with beautiful stones from the neighboring state of Minas Gerais.
Additional Lanais – one of these lanais turns into an outdoor extension of the Master Suite, and the other an extension of the Studio. Two wonderfully shaded areas where one could be soothed by the gentle breeze as one relaxes on a sun chair while relishing the view of the ocean.
Outdoor Patio – high off the ground to gaze at the ocean and the gardens. It was uniquely designed with alluring curves and short columns. This magnificent open space is totally covered with contrasting shades of thick sandstone slabs. The large Patio is accessed by three strategically located staircases from the outside gardens. These stairs, and the outer walls of the patio, are also covered with the same sandstone slabs. The Patio is illuminated by nine beautiful lights that enhance the tropical ambiance.
Swimming Pool – simply gorgeous and possesses a unique edgeless design. It is decorated with huge river rocks and fully lined with ceramic tiles. There is a large tropical umbrella on one side of the pool that provides a cozy shaded bar area with a very relaxing Jacuzzi. Lights inside the pool provide a motivation for a night swim, or perhaps, an enticement to watch the moonrise.
PLEASE NOTE: Nine of the spaces described above could be easily converted into additional bedrooms. Review the beige section at the top of this page.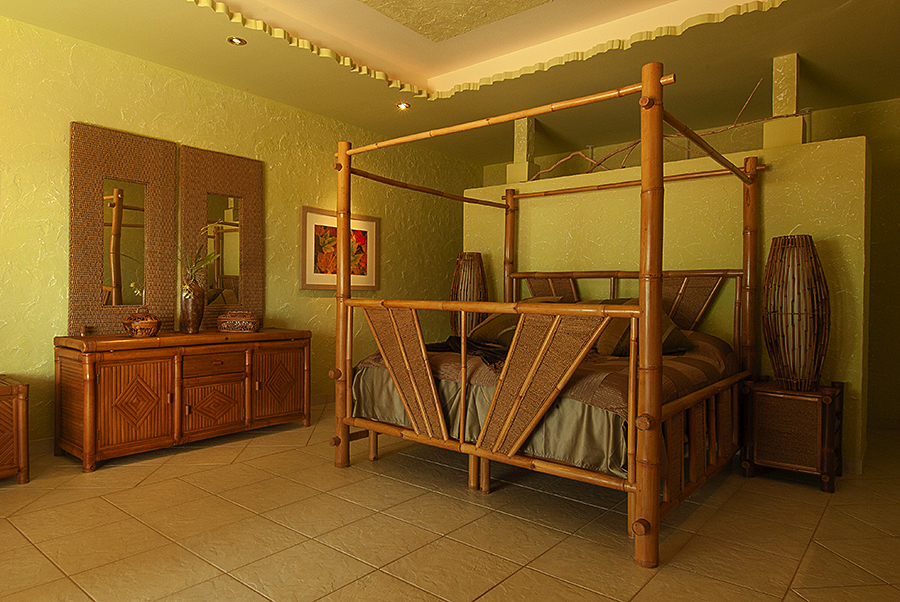 • Exercise Room (Possible Bedroom)
• Master Suite
• Master Bathroom with Linen Closet
• Stock Room (Possible Bedroom)
• Office (Possible Bedroom)
• Studio (Possible Bedroom)
• Laundry Room (Possible Bedroom)
• Hallways (Five)
• Garage (Two Cars)
• Garage Storage Rooms (two)
• Lanais (three)
• Patio
• Edgeless Swimming Pool
• Vestibule
• Great Room
• Dining Room
• Kitchen with Center Island
• Walk-in Pantry
• Coffee Room
• Powder Room
• Guest Room
• Guest Bathroom
• TV Room (Possible Bedroom)
• Billiard Room (Possible Bedroom)
• Walk-In Closets (two) (Possible Bedrooms)
• Security Room
The main residence was specifically designed to contain spacious rooms throughout. Large waterfront spaces are rather unusual in Bahia, as well as in Brazilian architecture as a whole. The unconfined feeling assists in promoting a state of relaxation, which essentially blends perfectly with the surrounding environment. The detailed information found below provides a better concept of what this gorgeous home offers.